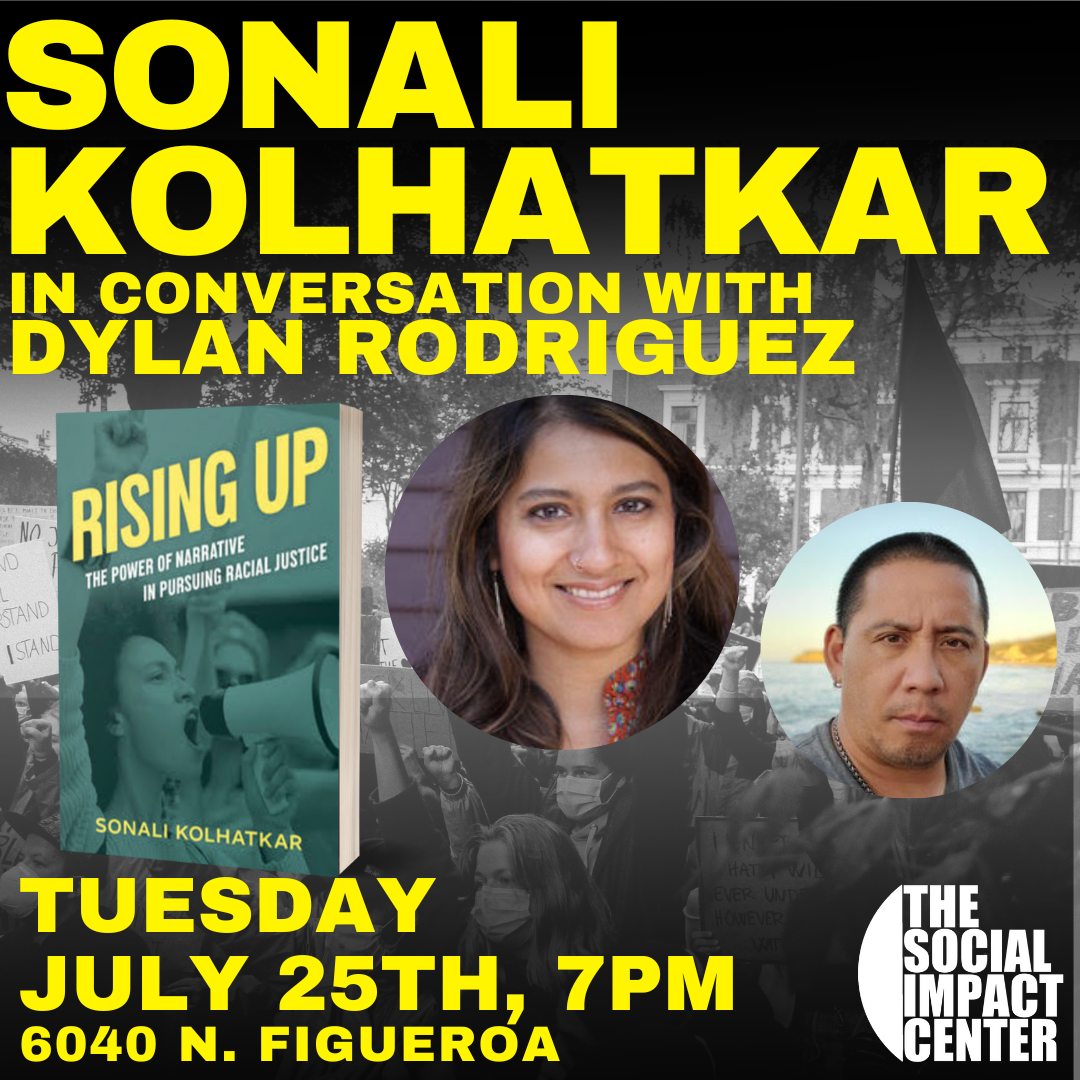 Join North Figueroa Bookshop in welcoming Sonali Kolhatkar, author of Rising Up, in conversation with Dylan Rodríguez on Thursday, July 25th at 7pm.
ABOUT THE BOOK:
Rising Up offers a timely exploration of how truthful narratives by and about people of color can be used to advance social justice in the United States.
While people of color are fast becoming the majority population in the United States, the perspectives of white America still dominate the vast majority of the media created and consumed every day. Media makers of color, long shut out of the decision-making process, are rising up to advance a set of different narratives, offering stories and perspectives to counter the racism and disinformation that have long dominated America's political and cultural landscape.
In Rising Up, award-winning journalist Sonali Kolhatkar delivers a guide to racial justice narrative-setting. With a focus on shifting perspectives in news media, entertainment, and individual discourse, she highlights the writers, creators, educators, and influencers who are successfully building a culture of affirmation and inclusion.
"Sonali Kolhatkar reminds us we are the stories we tell. Our stories can cast a spell of hate, division, and fear, or they can break the powerful grip of racial injustices that have held us since our country's beginning. With personal and collective wisdom, Kolhatkar guides us in the storytelling that liberates."–Luis J. Rodríguez, author of Always Running: La Vida Loco/Gang Days in L.A.
"Rising Up challenges the reader to not only rethink their assumptions, but to understand the critical importance of the creation of progressive narratives as an instrument in the struggles for human liberation."–Bill Fletcher, Jr., author of The Man Who Fell From the Sky
ABOUT THE AUTHOR:
Sonali Kolhatkar is the host and producer of Rising Up with Sonali, a weekly television and radio program that airs on Free Speech TV and on Pacifica Radio station affiliates around the United States. Winner of numerous awards, including Best TV Anchor and Best National Political Commentary from the LA Press Club, she is currently the Racial Justice editor at Yes! Magazine and a Writing Fellow with the Independent Media Institute. Co-author of Bleeding Afghanistan: Washington, Warlords, and the Propaganda of Silence with Jim Ingalls, Kolhatkar is Co-Director of the Afghan Women's Mission. She resides with her husband and two sons in Pasadena, California.
Dylan Rodríguez is a teacher, scholar, organizer and collaborator who has maintained a day job as a Professor at the University of California-Riverside since 2001. He is a faculty member in the recently created Department of Black Study as well as the Department of Media and Cultural Studies. He was elected to serve as President of the American Studies Association in 2020-2021, and in 2020 was named to the inaugural class of Freedom Scholars. Since 2021, he has served as Co-Director of the Center for Ideas and Society. Since the late-1990s, Dylan has participated as a founding member of organizations like Critical Resistance, Abolition Collective, Critical Ethnic Studies Association, Cops Off Campus, Scholars for Social Justice, and the UCR Department of Black Study, among others. He is the author of three books, most recently White Reconstruction: Domestic Warfare and the Logic of Racial Genocide (Fordham University Press, 2021), which won the 2022 Frantz Fanon Book Award from the Caribbean Philosophical Association.